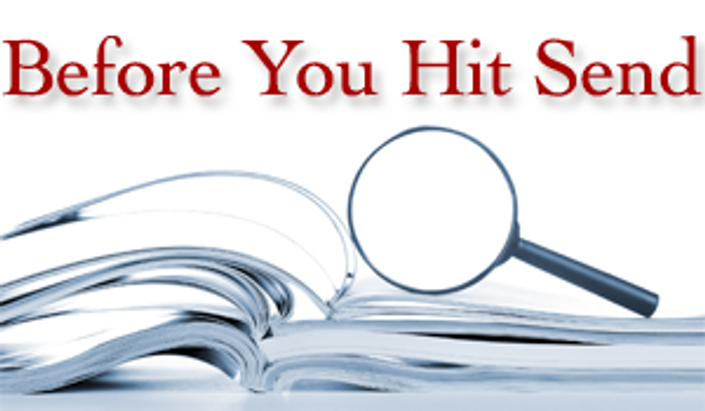 Before You Hit Send (Always On)
Learn to be a better writer and editor from a publishing professional.
Harness the power of an experienced editor's knowledge on writing and craft, in order to become your own best self-editor and a helpful critique partner!*
In this work-at-your-own-pace workshop, written lessons are presented over 30 days in a clear, entertaining and easy-to-understand way. Video explanations and audio clips enhance individual lessons and learning.
Topics include:
Why we shouldn't put too much emphasis on writing "rules"
Not-too-boring grammar and punctuation basics
How to get to showing instead of telling but…
No, not all telling, adverbs, or passive voice are bad. Learn why.
A new way of looking at pacing that helps YOU see where you've gone wrong
What you'll learn:
Concrete ideas, tips, tricks and lessons for polishing and self-editing your manuscript. Tips are delivered over a thirty-day time period in daily individual lessons along with examples and assignments to help you get the most out of your workshop experience. Workshop participants will develop a checklist of techniques, tips, information and processes for enhancing their self-editing skills and polishing future manuscripts, as well as learn how to make the new knowledge a habit while writing future books. Learn both the basics and advanced techniques of:
Dialogue and dialogue tags
Whether all forms of "to be" are really evil (the answer is no)
Just what you're doing to your life expectancy with your use of that exclamation point
What is overwriting? How can you avoid it?
Basic and advanced punctuation
Passive voice vs active voice, how to tell the difference, and why you might want to use them both.
Point of view
Pacing, including an editing trick to help you "fix" pacing.
What we mean by show not tell. And how to do that!
Different types of editing and stages of editing.
What to look for in an editorial relationship.
What to look for and questions to ask when hiring a freelance editor.
Formalizing and finalizing your manuscript before you hit send (or press publish).
…much, much more.
Over 30 lessons.
The course, updated and enhanced with new material and information each time it's offered, will guide you from the basics of self-editing and grammar in a clear, conversational manner with examples, to more advanced topics such as show versus tell and passive voice. Through it all, the course instructor, Angela James, will be available for clarification and questions in order to help you on your way to a cleaned-up manuscript and understanding the basics of editing your manuscript. The course has been developed over the last decade, is continuously updated and refined, and has been given to over a thousand satisfied participants, both online and in person, including aspiring authors and authors who've written dozens of books, as well as editors and copy editors.
Who should attend?
Aspiring authors
Authors interested in polishing their craft
Self-publishing authors
Multi-published authors–you may be surprised by what there still is to learn!
Freelance editors and copy editors looking to enhance their curriculum vitae.
Anyone interested in learning to edit and copy edit.
This workshop takes place on a private forum, and the lessons are released on a daily basis. Participants work at their own pace and ask questions as they do the lessons, while Angela will read and respond. There is no regimented schedule for participants, so if you have other obligations, you can definitely work around it.
*Editors still required to make your book the best it can be. This course just gets you one step closer, it doesn't do away with the need for a great editor, copy editor, proofreader.
Your Instructor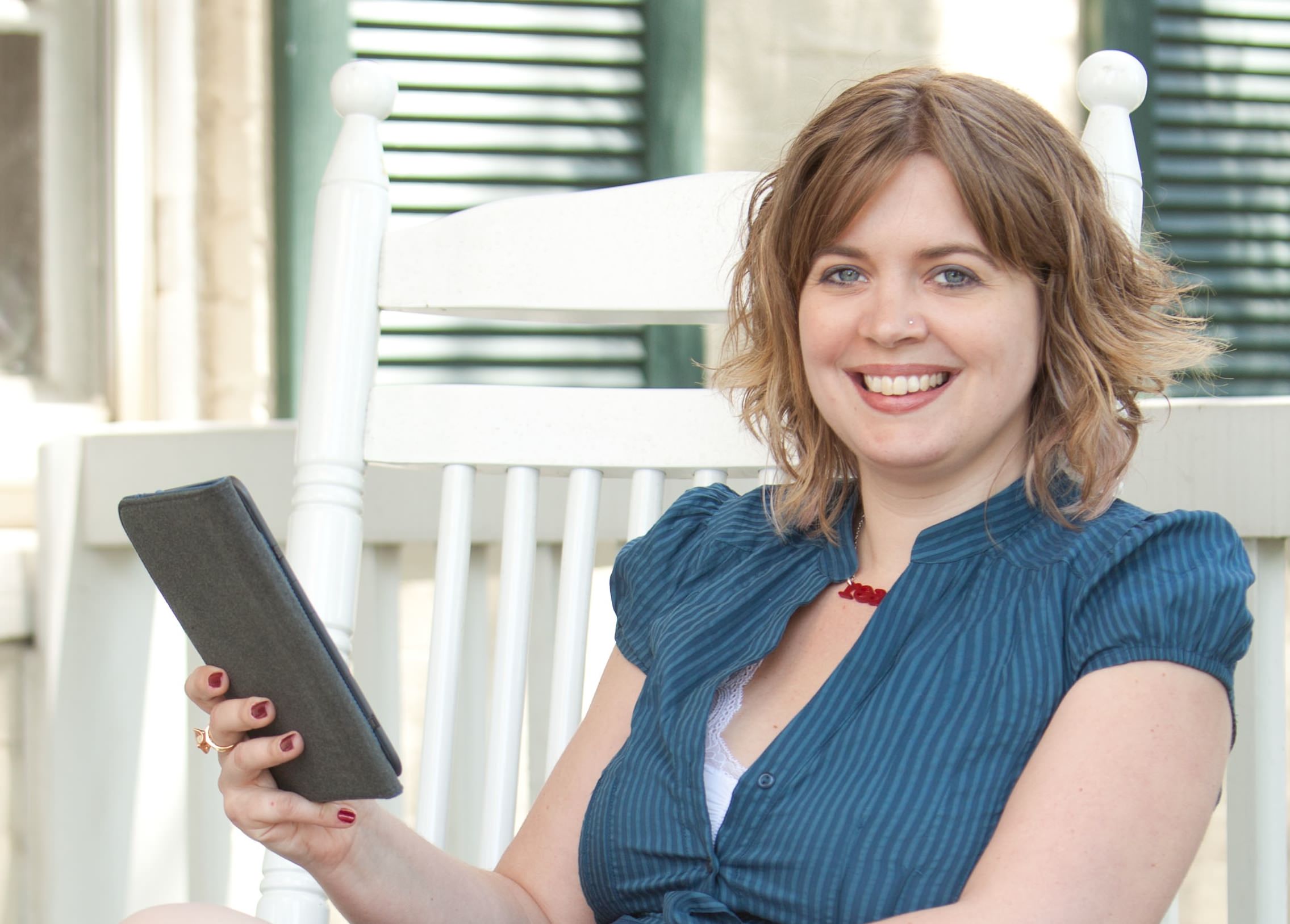 Join Angela James, a fifteen-year veteran of the editing profession, former copy editor, developmental editor of New York Times bestselling authors such as Shannon Stacey, Alexa Riley, Lauren Dane and Jaci Burton, and current editorial director of Harlequin's Carina Press for an intensive self-editing and writing workshop. She shares some of the common pitfalls she's seen during her decade of experience working as an editor with hundreds of authors and sorting through thousands of submissions, contest entries and manuscripts.
Course Curriculum
Welcome Info and Intro
Available in days
days after you enroll
The Building Blocks Part 1
Available in days
days after you enroll
The Building Blocks Part 2
Available in days
days after you enroll
Frequently Asked Questions
When does the course start and finish?
This version of the course starts the day you begin payment! Lessons will release to you daily for 30 days. You have access to the Before You Hit Send Slack conversation channels forever!
How long do I have access to the course?
Your access lasts for 3 months. You gain immediate access to posts upon payment and will be unenrolled from the course 90 days later. Access to the Before You Hit Send Slack conversation channel does not expire.
What if I am unhappy with the course?
If you are unsatisfied with your purchase, contact us in the first 5 days and we will give you a full refund. No refunds will be offered after the first 5 days.
Do I need to be online at certain dates and times?
No! The course will automatically release lessons to you at pre-configured times but you can read and work at your own pace, within the three months of course access.
What is Slack?
Slack is a real-time messaging service that we are now using for course conversations and questions. You are not required to download anything to your computer, it can be accessed via the web. But you can also download an app to your phone and stay up-to-date with the conversation! You will not be removed from the Slack course when the course ends, but will be able to participate in conversations and ask questions there even after the course is over.
I'm a returning course student, is there a discount?
Yes, email b4youhits
[email protected]
and tell us when you took the course previously and we'll give you a discount code to use for registration.
Why has the course price gone up from previous years?
We continue to being committed to keeping the course accessible for as many authors as possible. Normally, a course of this length, with this much information, would cost hundreds, and sometimes thousands of dollars. We don't want the information to only be accessible to a few authors, so we try to maintain low course prices. One of our goals has always been to be on a user-friendly platform for the courses, that allows us to give you access for longer periods of time while still scheduling lessons and allowing use of media. Unfortunately, platforms such as this charge for such use, so we had to raise the prices to accommodate new and ongoing costs associated with hosting the course.
Can I share my course access with a friend?
We would ask that you not do this. As an author, you probably value when someone respects your copyright, and we ask that you do the same with this course material. If you have a friend who's interested in the course, please share the registration link with them! Additionally, the course does show unique users logged in and if you appear to be logged in from 2 places at once, we will remove your course access.
This course is closed for enrollment.